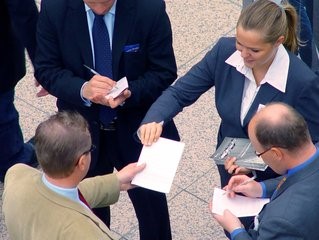 Image by Mihai Eustatiu on FreeImages
Here at Data Storage Corporation, we have specifically designed our email archive solutions to enable FINRA-regulated companies to review exchanged messages among traders faster. One of the requirements of FINRA that our email archive solutions can address is conducting a random sampling of messages that contain a specific keyword or phrase. This is possible because our robust email archiving possesses accurate search and retrieval with Boolean expression and fuzzy search capabilities, to name a few.
Email Archive Supervision
There must be a certain degree of flexibility available in the email archiving system for compliance officers to do their job efficiently. It's common practice for FINRA to provide a list of words or phrases to compliance officers for them to search for in the emails of brokers. As mentioned, our email archiving system not only allows in-depth legal discovery, but it's also sophisticated enough to do random sampling. Our email archive system will be able to identify all messages that have that specific keyword, or track all messages from a specific broker. In a nutshell, the system allows compliance officers to feed a list of keywords or set search criteria into the system according to their needs or the requirements of FINRA.
Compliance officers also enjoy a variety of ways to narrow down their search criteria. For instance, they may choose between a sender and a recipient of the email. They may also look at entire texts in email messages or the attached documents of emails. Another parameter they can set is defining a specific timeline for reviewing both external and internal messages. They can create folders for organizational purposes as well. Once they review these messages, they can easily tag them as compliant or non-compliant. From a supervision standpoint, our email archive solutions thus make the job of these compliance officers easier.
Data Storage Corporation Email Archive System
The benefits of our email archive system don't end there. They can download these results for review at a later time. Compliance officers can also generate compliance reports based on their criteria by scheduling or automating it. What's convenient about this is that they no longer need to log into the system every time. They will just be given the results of the report on a daily or weekly basis, for example. To learn more about our email archive system, we encourage you to schedule a demonstration today.
For inquiries, please do not hesitate to contact us at 212-564-4922.