Your Company's single most valuable asset may be its data
Customer data, product data, financial data, employee data—this is the lifeblood of modern organizations. And when something goes wrong, you will not define success by how the data was backed up—all that matters is getting your data back. All of it. All the time. All correct. All at once.
In data backup, recovery is everything. With this as the ultimate goal, your software solution should deliver maximum:
Security
Manageability
Reliability
Affordability
---
Cloud Protection with recoverability anytime, anywhere
Asigra Cloud Backup is designed for private, hybrid and public cloud architectures, giving you industry-best recovery assurance in the face of your exploding data volume and complexity. Your data can be backed up and recovered efficiently whether it is on a physical or virtual machine in your heterogeneous enterprise environment, on servers, desktops, laptops, smartphones and tablets, or in cloud-based applications such as Google Apps or Salesforce.com.
---
Maximum Security
With our Recovery Cloud, your data is protected at all times with the highest levels of security and compliance:
AES 256-bit in-flight and at-rest data encryption
Government-approved NIST FIPS 140-2 security certification
Customer-controlled encryption key and authentication
The Recovery Cloud's agentless architecture is secure because it does not rely on vulnerable agents that need to be installed on each machine. This eliminates open ports on your firewall for all backup sources, dramatically enhancing security by removing points of attack inherent with agent-based architectures.
---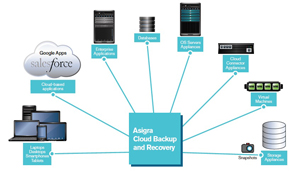 Click image to expand
---
Maximum Manageability
The Recovery Cloud delivers continuous control with low-touch manageability. Our centralized operations and capacity management gives you a comprehensive, unified view of your systems and devices:
Single Consolidated Repository – Simplifies backup and recovery of data that's currently backed up in silos scattered across the enterprise
Single-pane-of-glass View – allows you to manage from an intuitive web-based dashboard with visibility across the enterprise for even the most complex disaster recovery and business continuity strategies, including multiple branch locations and local/remote backup and recovery management of data centers
Agentless Architecture – simplifies installation and ongoing operations in your environment by eliminating the downtime and disruption of deploying and maintaining agents
---
Maximum Reliability
Having confidence in your ability to receover data when it matters most comes from trusting in the backup and restoration processes. There are two important processes to ensure realiability:
Autonomic Healing – verifies the logical and physical integrity of the data written to the storage systems
Restore Validation – ensures data is restorable by simulating real recoveries (without actually writing the restored data)
---
Key Features
Security
Agentless Architecture
FIPS 140-2 Certification
AES 256-bit Encryption
Regulatory Compliance (SOX, HIPAA, Basel II)
Compliant Data Destruction
Encryption Key Management
Manageability
Block-Level Incremental Forever
Deduplication
Compression
Local Storage
LAN Storage & Resource Discovery
Reliability
Restore Validation
Autonomic Healing
Reporting
Near-Instant Recovery
local Virtual Disaster Recovery (LVDR)
Remote Virtual Disaster Recovery (RVDR)
Continuous Data Protection (CDP)
Snapshot Support (Netapp)
---
Questions about Backup and Recovery options?
Contact a Data Storage Corp representative today or call 212.564.4922 today!